Valentine's day is on its way, and it is about to hit a couple's attention like every year. February is the month of love, romance, and fantastic sex. No matter what is your plan for this Valentine, make it a little more romantic and the best of all time. Between fancy dates, vacations, and dinners, every couple wants a happy ending to this romantic day.
So, how can we forget the sex that remains in our partner's memory till the next year? One of the best ways to make the valen-sex special is to try new sex positions. Believe us; it will be a thrilling experience for you and your partner.
In this post, we will share the 10 perfect positions for sex that provides you both ultimate pleasure. So, get ready to be naughty and start making your bucket list for this Valentine's day.
1- Romantic Valen-Paradise
Media Source: Women's Health Magazine
The Valen-paradise is a unique sex position you can try with your partner. It looks similar to the cowgirl in which women sit upside the men and enjoy the penetration. However, during this, you will get lean little bit backward. During sex, you create different angles and let your man easily access your clitoris. By doing it you can enjoy the sex drive that quickly targets your G-spot from different angles.
Steps To Enjoy This Sex Position
Climb on top of your partner in the sitting position.
Get in a comfortable place and lean back slowly.
Put your hands on your partner's knee or bed for support.
Create a 45-degree angle with legs and enjoy the sex.
2- Naughty Face-Off
There are different sex positions, but naughty face-offs will remain one of the couple's favorites. If you love dirty talking with your partner by making eye contact, this sex position will prove a goldmine for you.
You should prepare for a naughty face-off this Valentine's to show your greatness. Various sexual therapist recommends this position of sex for building trust with your partner. In addition, it helps you get complete control of the depth of the penetration.
Steps To Enjoy This Sex Position
Makes your partner sit on the edge of the bed or chair.
Now, sit on his lap and face him.
Put your knees on the bed for support and makes an angle with your legs.
Play with different angles and play as your will.
3- The Ultimate Chairman
It is one of the sensual sex positions in a chair that allows you to use intimacy to create your own room. As the name suggests, you use a chair or other support to enjoy the penetration. There is no facial contact(or a little bit of kissing or dirty talk).
One thing that decides the success of this sex position is your communication level with your partner. You sit on top of the and control the penetration level. There is a lot of room to play with different angles and let the excitement play its role.
Steps To Enjoy This Sex Position
Make your partner sit on the chair or at the edge of the bed.
Sit on his lap, keeping the back at his face.
Now, lean back at his chest.
Utilize this position to add naughtiness by making dirty talk.
Do up and down to speed up the sex as per your convenience.
4- Dirty 69
If you love doing oral sex, then dirty 69 can add absolute pleasure to your moment. It is one of the couple's favorite crazy sex positions that provide ultimate satisfaction. Oral sex has always been questioned regarding intimacy and trust among partners.
But that doesn't mean it can't spice up things on special occasions like Valentine's. During this sex position, you and your partner give oral sex to each other at the time. The dirty 69 is a thrilling position that requires the proper preparation. It will provide you with a sensual experience.
Steps To Enjoy This Sex Position
Lie down at your back and let your partner climb you.
Remember, you are facing away from each other's upper body.
You both create a number 69.
The genitals of your should line up with your partner's mouth and vice versa.
Once you are in a position, use the tongue to level the sexual pleasure.
5- The Evergreen Doggy Style
Doggy style is one of the best sex positions that are easy and give the next level of satisfaction. We assume you have already tried it once in your sexual life. But there is a secret to making it memorable for your partner this Valentine's night.
It is a classic position where the receiver is usually on hands and knees with a partner. The puppy or doggy style is one of the proven intercourse positions for high sex drives. Whether you do vagina or anal sex, it allows you deep penetration from behind.
Steps To Enjoy This Sex Position
Get on your hands and knees and let your partner get behind you.
Your partner will kneel behind you with his upper body slightly draped over you.
To make it a little hotter, use your fingers over the clitoris or ask your partner to do it for you.
It will allow you to stimulate the G-Spot and provides ultimate satisfaction.
6- Heels Over Shoulders
Enjoy the deeper penetration by widening your vagina for your Valentine. It is one of the fun sex positions and perfect for partners who love seeing each other during sex. During this, you put both your heels over his shoulders and narrow down your labia for a snugger fit.
The best part of this sex position is that it allows you to enjoy deeper penetration without too much effort. When you use this position, we bet it will make you naughty.
Steps To Enjoy This Sex Position
Lie back on the bed with your heels resting on your partner's shoulders.
Hold his back and let your G-Spot stimulate.
7- Mutual Masturbation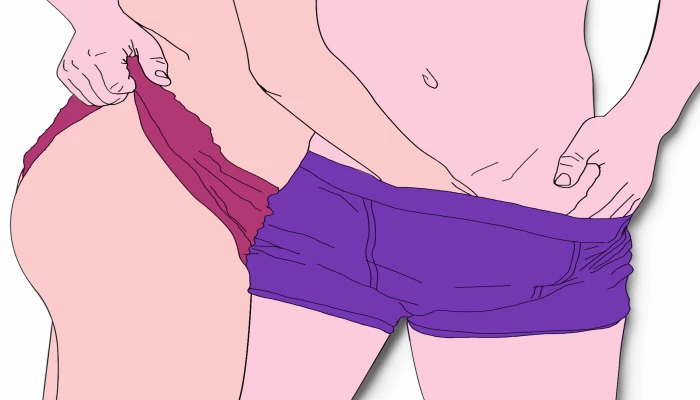 Mutual masturbation requires fewer positions and offers a high sex drive for couples. It is one of the best lesbian sex positions that give you complete control over your stamina.
By doing this, you can level up the intimacy level with your partner. Even if you are horny, you don't need to change your position. All you have to do is to use your fingers to play with your vagina.
Steps To Enjoy This Sex Position
Sit on the floor by the side of your partner.
Put your hands on your genitals and ask your partner to do the same for their genitals.
Start dirty talking and kiss your partner to build up intimacy.
8- Thrilling Wheel Barrow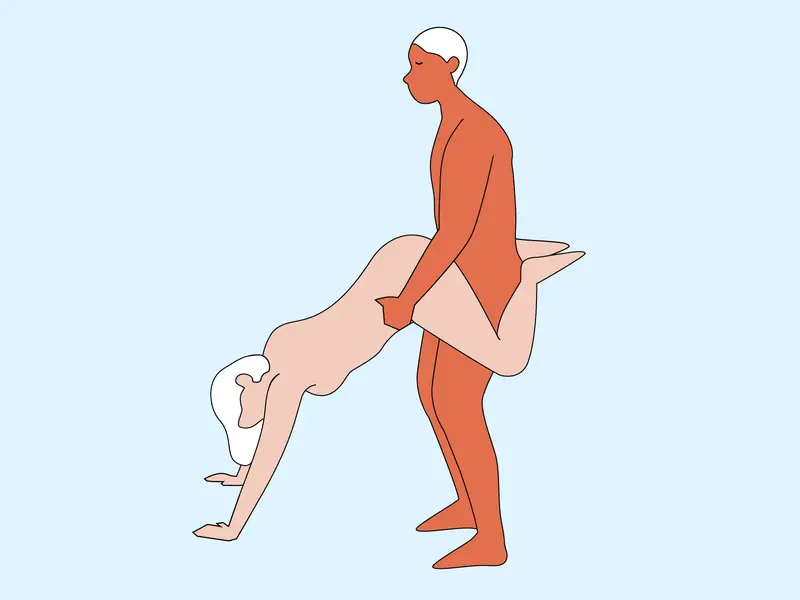 Do you want a thrilling experience while doing sex this Valentine's day? Don't forget to add the thrilling wheelbarrow to your bucket list. As it requires strength from both partners, it is also one of the admired gay sex positions that outlast the boredom in the relationship.
Furthermore, it is also known as the calorie-burning sex position, as the strength from both sides plays an important role.
Steps To Enjoy This Sex Position
Use your hands and knees to position yourself on the floor or bed facing away from your partner.
Your partner will stand behind you and lifts your lower body.
While penetrating, they need to hold your hips for positioning.
You have to maintain your position and trust your partner during the process.
9- Shower Ballet Dancer
The romance seems incomplete without the shower. It is also true when you have a beautiful room that allows you to turn your imagination into reality. Yes, it is possible now with the help of a shower ballet dancer sex position. Take your partner in the shower and enjoy the hot penetration. It will add romance to the moment and makes your Valentine even more memorable.
Steps To Enjoy This Sex Position
Stand with your partner by facing each other.
Ask your partner to take off your one leg against the tub.
Hold your partner with both hands.
Now, facilitate the G-spot stimulation by making an angle with the shower.
You can change the sex position as per the convenience of deep penetration.
10- Cradle your partner
Connect with your Valentine like never before with this sex position. It is one of the couple's favorite car sex positions in which you hug your partner by making them sit on your lap. It allows you to provide full attention and sparks romanticism by enabling you to make direct eye contact. Whether it's your car or a well-decorated hotel room, you must try this sex position this Valentine's day.
Steps To Enjoy This Sex Position
Make your partner in a sitting position by a prop on the pillow.
Lower your body onto them and let their legs outstretched.
You have to keep your feet flat on the bed or floor.
Now, you control the rhythm of the penetration level.
Tips On Making Your Valentine's Day Sex Unforgettable
While you try the above sex positions, you need to fuel up with underrated sex tips that can make your Valentine's date unforgettable. If you are new and have never done sex with your partner before, then it's time to be more cautious. We bring you the underrated tips that don't make your special day a nightmare.
Be Communicative With Your Partner
A significant mistake couples make while having sex on Valentine's is not communicating with their partner. You should know when is the right time to start the dirty talks or be naughty. If you have been in a relationship for a few months, it is better to understand your partner's sexual needs. Start communicating with your partner and get to know their fantasies.
Start With A Kiss
The basic rule of sex is to start it with a kiss. You don't need to get intimate from the beginning. Create a romantic environment with stories and turn up the heat with the kiss. It speeds up the hormones in the body and excites you and your partner.
Identify Your Partner's Comfort Position
Choosing a comfortable position from the different sex positions can be cumbersome. It is always best to know your partner's comfortable sex position. You can start with the classic doggy style and try the different one once your partner gets comfortable. In some situations, your partner might be shy or not want to talk about it. But it's your responsibility to clear out any fear.
Use Protection While Doing Sex
There is a high need for you to understand the importance of safe sex. We advise you to use protection like condoms, birth control pills, and barrier control methods to not getting sexually transmitted diseases (STDs). Get a complete overview of the importance of sexual health and what preventive measures you need to take before starting sex on Valentine's day.
Prepare Yourself For Future
Once you did sex with your partner, prepare yourself for future problems (if any happen). In most cases, women face the vagina odor, which is the unpleasant smell that usually comes after orgasm. Apart from it, if you notice any sexual problem, reach out to the sexologist urgently.
Wrap Up
The ending of Valentine's day with safe and memorable sex is every couple's dream. Between the long list of sex positions for Valentine, it is challenging to select the perfect one. Everyone has their own choices and comfort when it comes to sex. We mentioned the top 10 positions for Valentine's day sex that add the next level of excitement. Make sure to communicate with your partner and use the proper protection while using these positions.
We hope you will find this post helpful and make your partner a true gift of satisfaction. In case of any doubts or queries, you can write an email at info@healthtipsandguide.com. If you have friends who don't know about these sex positions, share this blog with them. Have an amazing Valentine's day from our team.